5 October 1968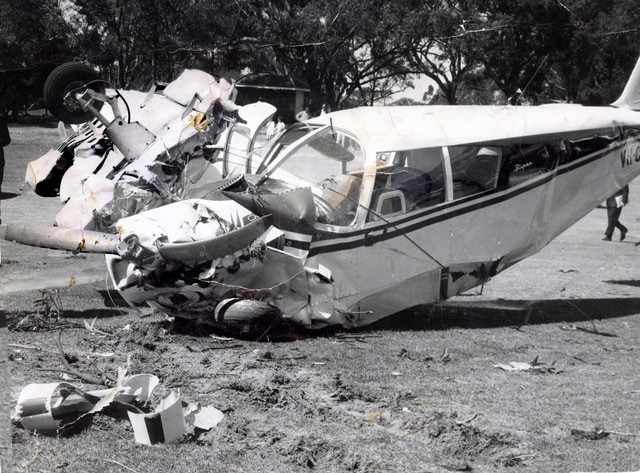 Adversity can define us in ways we never expected
On a brilliant sunny Saturday, a 12-year-old boy finally convinced his mother that a joy flight with a family friend was a good idea. He even convinced his dad to come along.
As the little Piper Cherokee commenced its final turn towards the runway with a remaining elevation of 3000 feet, just below was a Cessna lining up to do the same thing. Without warning, the two planes collided and tore the Cherokee's port wing to shreds.
The terrified 12-year-old sat in horror as the pilot grappled with the controls and called over the radio, "mayday, mayday". The boy knew this was bad. As the ground rushed towards them, he closed his eyes just as the plane hit the big pine trees and tumbled the last 50 feet to the ground.
There, on the 18th hole of the Woodlands Golf Course, everything was silent. Nobody was moving. Except a few golfers running in disbelief towards the wreckage.
The smoke cleared and the cabin door was opened as they pulled the injured passengers from the mess. The 12-year-old boy went to climb out. His legs wouldn't work. Ever again.
It was at that moment, I realised that my life had changed forever.
The next six months in hospital became a foggy blur. My father died a week after the accident. I was told I was a paraplegic. I was told there was no cure. I was told I would never walk again.
Technically they were right. But in fact, they were very wrong. You see, I worked out that I would walk again. In fact, I would run, I would play, I could do anything and do it every bit as well as anybody else. Only my version of walking would be sitting down.
And that's exactly what happened.
After a somewhat rough and confusing start to the next phase of my life, mixing disability with adolescence, I eventually emerged from teenage years without any permanent scars. I completed a couple of degrees and along the way I was even selected for the 1980 Paralympics.
Two Bronze medals there (and a world record), marriage to my (still only) wonderful wife, two amazing (now adult) kids, World Cup Basketball, 15 marathons, extreme snow skiing, car rallying, long distance hand cycling and of course, a Chartered Accountant with 35 years helping lots of business owners realise their dreams too.
What I didn't realise for a long time was the power of humans to deal with adversity. Adversity shapes lives in an amazing way. It turns the humble and meek into powerful and compassionate humans. I know that it doesn't feel like it at the time, but most people emerge the better for the experience.
My wife did her thesis on the impact of adversity in people's lives. That impact can come from a sudden and unwelcome change, such as sickness or injury, death of a friend or family member, significant change of life circumstances (divorce, financial loss, business failure) or in fact loss of anything that you value. It is real and the everyday pain does not go away.
For two years.
It takes that long. But then, most people move on with their lives. Their loss is still there, but it eventually stops hurting every hour of every day.
I have been asked many times; how much money I would pay to be able to walk again?
Pay? Are you crazy? You couldn't pay me. I wouldn't change a single thing in my life (as harsh as that sounds). I am who I am because of everything I have endured and enjoyed. Life is amazing.
I often reflect on the many times during Targa Tasmania (and our one Targa New Zealand) as I watched the amazing Peter Brock patiently attend to the long queues of eager fans who all wanted his autograph. He signed hats, T-shirts, scarves, arms, anything.
Always the same words that I loved so much.
Enjoy life. Peter Brock.
I pass on his message.
Chris