(copy of article published Wheel The World October Newsletter)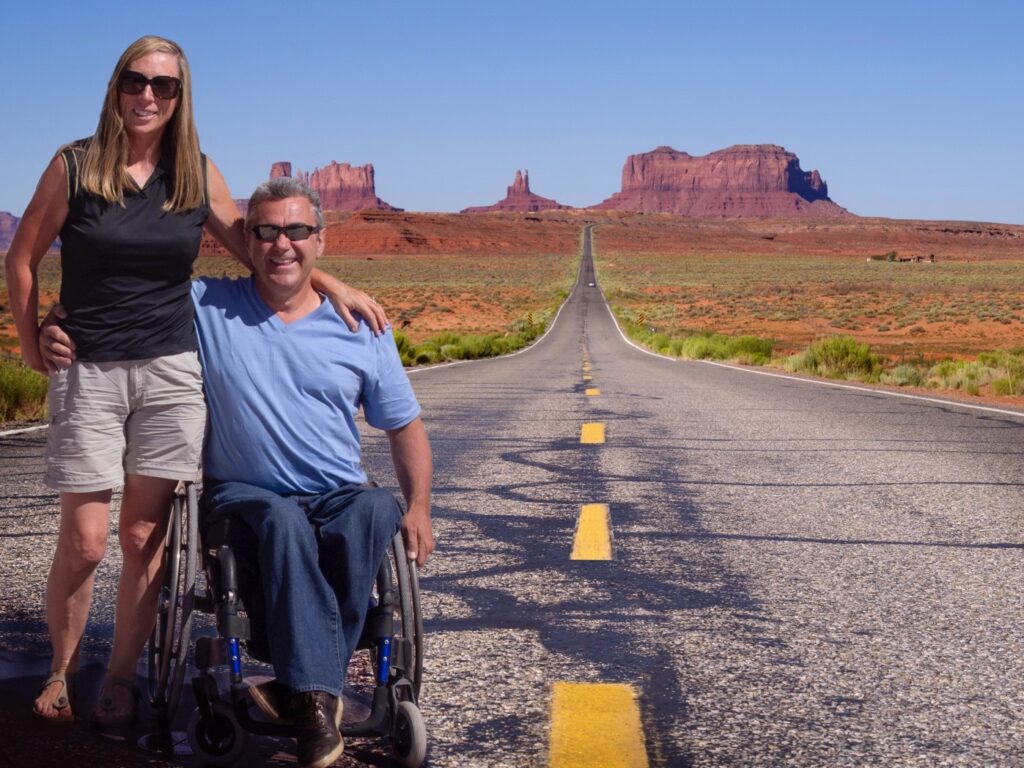 Like my fellow Australians, our family just loves to travel. It's in our blood. My wheelchair never stopped me exploring our amazing planet. Over the past 5 decades since becoming a paraplegic, I have visited many countries and flown millions of miles. Literally.
Accessibility throughout the world has now become the mainstream expectation for all travellers and most countries have made great strides in offering reach in their transport, accommodation, food, cities, venues and sites. But some had a long way to come and still have a long way to go.
In the 80's and 90's, it was difficult to discover whether accommodation was accessible. We would do our research and chose the best apparent options only to discover our accessible accommodation regularly had stairs at the front door, an elevator that would hardly fit a suitcase, bathroom doors that were too narrow, toilets that were behind the door in a narrow bathroom, and breakfast rooms down a flight of stairs in the basement.
Now, with greater awareness of the needs of disabled people and with better information available about the actual destination, it is rare to get caught out. But it still happens. When it does, most people go out of their way to help.
Like in Chile a few years back. We arrived at our prepaid hotel and it was very inaccessible. And probably my fault (Trip Advisor's search function can list "wheelchair access" as a criterion and the search result included this hotel. However, the hotels web site clearly said not suitable and I didn't double check). The manager of the (3 star) hotel found us alternative accommodation (at their cost) at an amazing 5-star hotel. We were very grateful.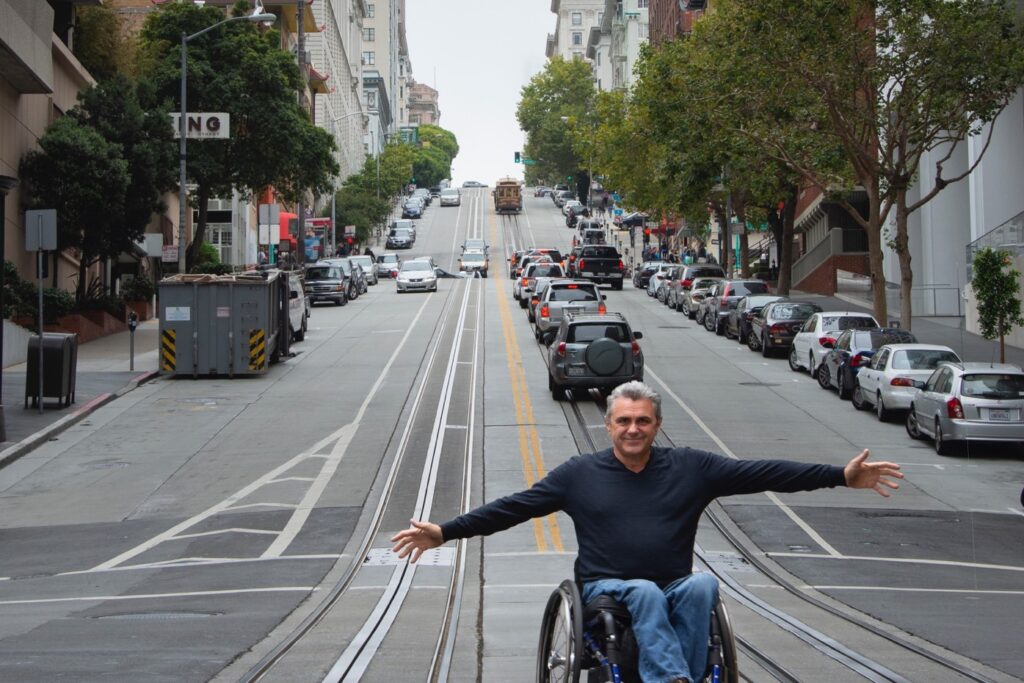 Perhaps the easiest place in the world for a disabled person to visit is the USA. Thanks in part to the huge efforts of disabled Veterans, the USA has led the world in awareness, standards and ultimately legislation. Which makes it an easy place to visit. Just be mindful that not every room in every hotel is accessible so in peak season, it pays to book ahead and let them know of your needs.
Why do we love visiting the USA?
The are many reasons, but I will list a couple:
Great cities such as New York, San Francisco, Chicago and Washington are fabulous places to visit, have so much to offer, and where just a handful of days to explore is never enough. We love just walking around.
Americans love visitors and we always feel welcome.
The snow is fabulous, especially in Colorado, Utah, Wyoming and California. Best of all, this is the home of accessible skiing. Most ski resorts have disabled ski schools and can rent you equipment. Not expensive and they cater for blind, para and quad skiers. We have visited in the USA winter for skiing at least a dozen times.
Public transport is easy. All of it. Busses, trams (even the old San Fran trams), trains, airplanes, and ride share are all designed to cater for disabled. Pays to do your homework and prior notifications can be required.
Great road systems all across the country. I bring portable hand controls so I can drive and most auto hire companies offer hand controls as a pre-order option without charge.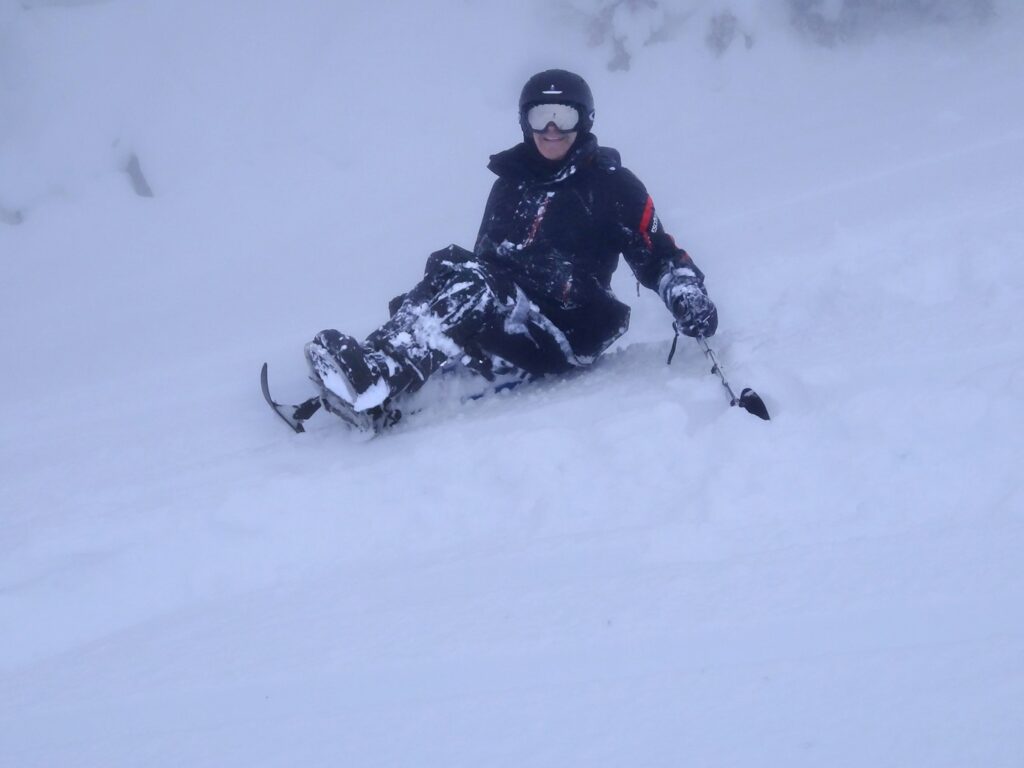 But perhaps the best part about the USA is the geography. My wife Aileen is a fabulous amateur photographer, so I have all the excuses to explore the best on offer. And there is a great deal to see. All of this beauty is so easily reached and only the locals really know about the best parts.
Here is the trick.
Go online and look for the National Geographic publication called "Scenic Highways & By-Ways". Great investment. In there you will find every amazing by-way and route through the extraordinary network of National Parks throughout the USA. If you enjoy putting together a road trip, this is unbeatable.
To name just a few of our favourites:
the winding Blue Ridge Parkway (North Carolina & Virginia) … 2 days
a fall (autumn) drive through the New England States (Maine, Vermont, Hampshire, Massachusetts, Connecticut and Rhode Island) … 1 week minimum
the ocean of Big Sur (Los Angeles to Monterey) … 2 days
Serra Nevada (Tahoe, Yosemite, Death Valley, Kings Canyon & Sequoia) … 1 to 2 weeks
our favourite, the Colorado Plateau circuit (Utah, Colorado, Arizona and New Mexico) … at least 2 weeks.
The Colorado Plateau includes amazing sights such as the Grand Canyon, Arches National Park, Zion, Bryce Canyon, Hoover dam, Mesa Verde, Monument Valley and Canyonlands. All pretty accessible (a few 'walking photographer only' spots though) across a couple of unforgettable weeks. We have been back to the one spot on 5 separate occasions to try and capture a particular dawn photo. It now hangs big and beautifully in our family room.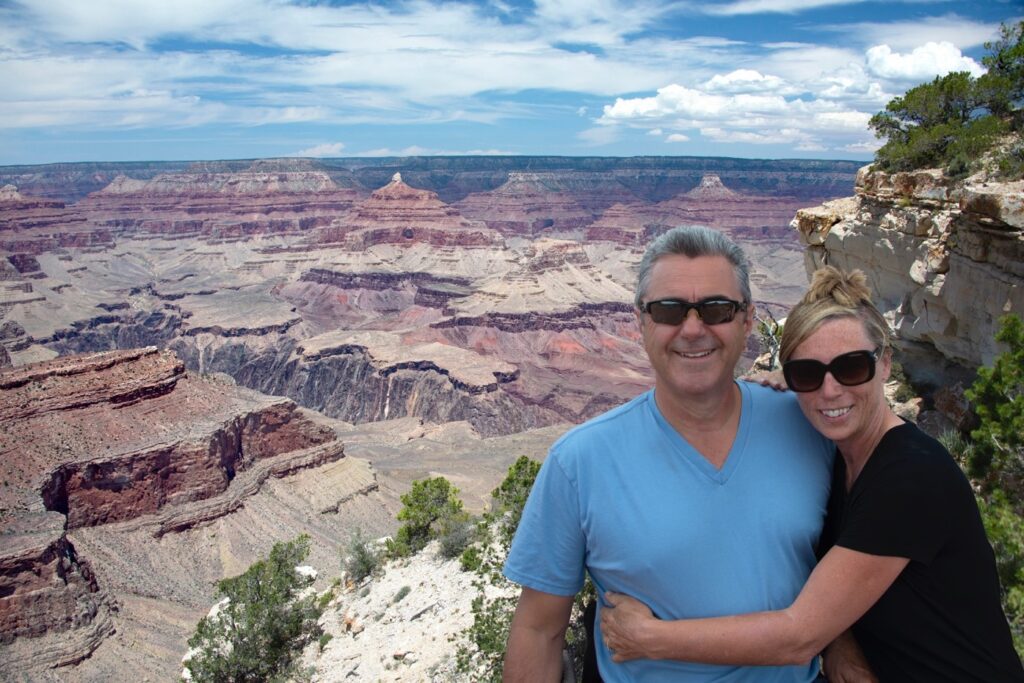 Accommodation? So Easy. The chain hotels (Homewood, Comfort Inn, Holiday Express, Hampton Inn & Best Western) are usually modern, accessible and include breakfast. There are others too and mostly well priced.
Fuel prices in the USA are amongst the cheapest in the world. Auto hire is cheaper if you start and finish in the same location or at least the same state.
Food? Can be tricky unless you like a lot of fast food. But as a tip, bring a cooler, visit the supermarkets and buy fresh foods for lunch on the run. For good on-the-road dinners, try Red Lobster, Outback (it's not actually Australian but a good copy and pretty good value), Sizzler, Ruth's Chris Steakhouse and other chain outlets. Good food, reasonable value.
We go to the USA every year and I made three separate trips in one year. We even went early 2020 before we were shut down by C-19. So, it must be pretty good.
Just don't forget the camera.