Client Profile:  Status Houseboats
Puzzle… what is 3 stories high, has 5 bedrooms, 3 ½ bathrooms, 2 kitchens, an elevator, reverse cycle air-conditioning, floor heating, solar panels and built to the standard of the most exquisite homes in the world?  Well, that would be one of the breathtaking bespoke houseboats designed and built by Darren Withoos and John Gysberts, owners of Status Luxury Houseboats at Eildon, Victoria.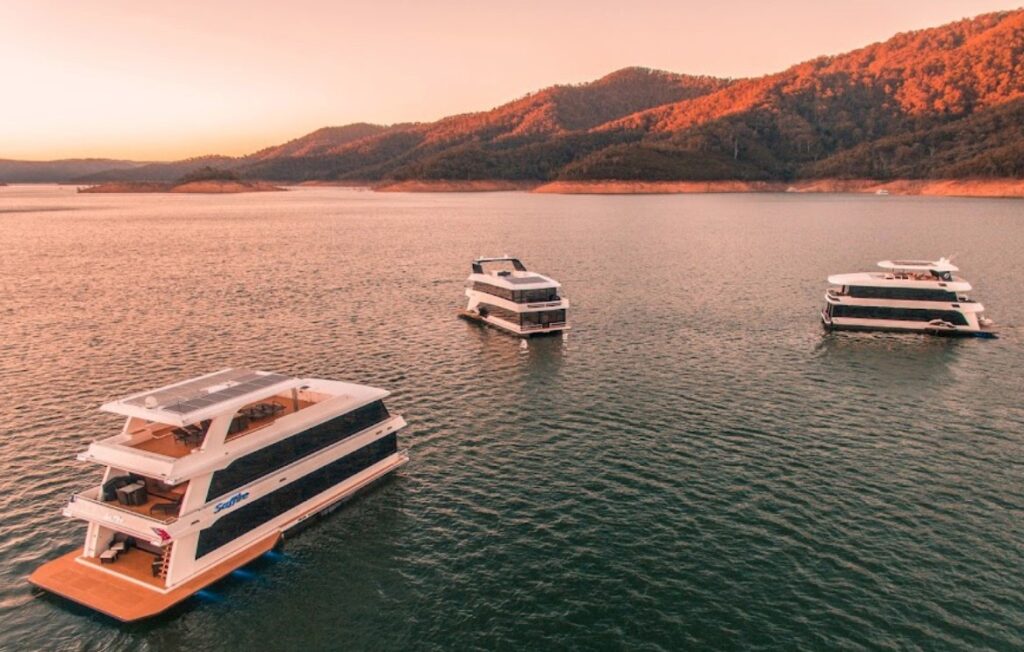 Add to that, state of the art twin Mercruisers or Volvo Marine engines, side thrusters, hydraulic submersible rear duckboard, jet ski tenders, huge battery supply and all the electronic gadgetry necessary to make these arguably the best made and most luxurious houseboats in the world.
And only at Lake Eildon is this possible.
This is all about lifestyle.  There is a community of enthusiasts who leave the city on a Friday and step into another world on the massive lake.  The lake has 138 square kilometres of hidden coves, winding valleys, and long stretches of water, perfect for the explorers, adventurers, or fun-loving families.
Finished in 1929, Lake Eildon was built as a water supply, irrigation, and hydroelectric system on the upper Goulburn River.  There are families that have been coming to the lake for three generations.  Houseboats have been around for a long time… but not like these ones!
Constructed in a purpose-built factory, these houseboats are crafted up to three at a time. The painstaking process commences with a consultation process that endeavours to create a unique boat every single time.  New owners are like expecting parents, involved at every step of the way.
This is not a quick build… it takes one year from commencement to completion.  And if you want one, well there is a reasonable backorder, and the entry price is significant.
But there is a limit to the number of houseboats allowed on Lake Eildon.  Only 720 boats can ever be on the lake.  To put a new boat into the water, an old one must come out and the licence transferred to the new boat.  More cost!  At least fresh water makes maintenance a lot cheaper and easier.  Saltwater is very hard on boats.
Interestingly, the partially finished boats are hauled one kilometre from the factory to the Status waterside hardstand before they are completed.  This must be done early as the maximum load on the road is 55 tonnes.  The last 11 tonnes and even the top story is fitted at the dock.  At least this requirement frees a bay at the factory for another new houseboat to commence.
This great short video shows the eye watering journey from the factory to the water! (yeah… this video is definitely a 'boy thing').
Next year, Status will be commence manufacturing a totally green electric houseboat.  Fully independent, powered entirely by the latest solar arrays, with lithium battery storage and strong electric motors.  This will be big news when it is launched.
And what do their clients think of their new toys?  These houseboats are their love and joy.  Their dreams have become reality.  The boats are like a real baby!  Every new owner seems to be besotted by their beautiful creation and looks for any excuse for extra time on the water.
We are very proud to have Darren and John as tax, accounting & advisory clients of Alp McNamara.